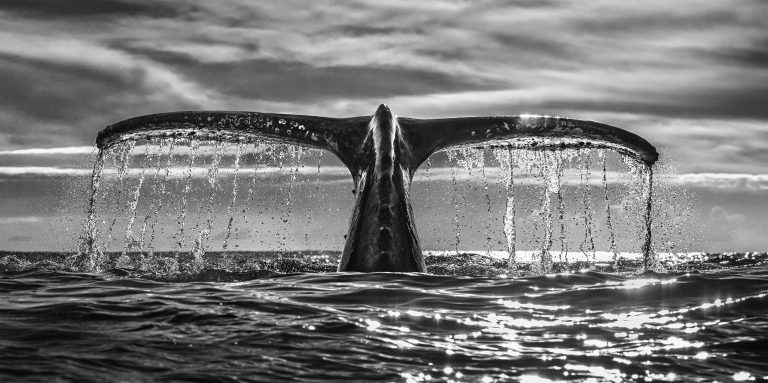 If asked to name the symbol of the ocean that most epitomizes the creatures that inhabit it, I'm convinced that most people would cite the iconic fluke of the tail of a giant whale, lofted high above the surface of the water just before the giant creature dives back into the inky depths below.
My quest for capturing the perfect image of this marine metaphor has taken me across various oceans over a number of decades.
To get this close to a whale requires a combination of patience from my side and the whale placing its trust in me so that it is comfortable enough to approach me head-on to within a few feet before diving.  It takes repetition; time and time again for the whale to recognize that I am neither pressuring it nor engaging aggressively with it, and that it can do whatever it wants on its own terms.
My aim with this work is for the viewer to really engage on an emotional level with the moment that I pressed the trigger. To have been able to look up at the colossal tail as it hoisted clear of the ocean's surface, as it approached to within a few feet of where I lay at water level, is an incredibly beautiful moment, both artistically and sentimentally. It's a moment when a creature that has been tormented and slaughtered relentlessly for centuries by my kind is still nevertheless able to trust in my intentions. For me, that is deeply humbling.
I believe the power of this work is the perfect symmetrical balance of the tail above the ocean surface, and at the same time, the separation from the horizon which allows the audience's attention to be drawn to its huge wing-like magnitude.
When these moments combine, it allows the viewer to feel as if they are actually in the ocean, there under the massive shower of water cascading like a shattered chandelier off this sentient creature.
This work represents what is probably as close as I am ever likely to get to the perfect tail of the ocean and the opportunity to do justice to our planet's most gentle giant.
Available Sizes
Exhibition: 173cm x 86 cm (68" x 34")
Large: 146cm x 73 cm (57.5" x 28.5") – AED 55,482
Classic: 118cm x 59 cm (46.5" x 23")
Available Editions
Exhibition: 12
Large: 12
Classic: 12